The Intentions are clear among APAC businesses – the Cloud is the way to go. The region is among the rising digital hubs of the world where the demand for multi-cloud management, Cloud interconnect, and hybrid businesses have been quick to identify the benefits of cloud technology.
A gap has opened in the Asia Pacific (APAC) region in recent years between the intentions to transition to cloud technology and the requisite infrastructure. The Covid-19 crisis might galvanize businesses into closing this gap.
Techwave surveyed senior executives across APAC economies and found that spending on the public Cloud in these regions is growing faster than in the US and Western Europe.
Most APAC businesses were spending approximately 4% of their IT budget on Cloud in 2016; the figure had risen to 6% by 2018. It will jump to 12% by 2023.
Earlier to the onset of the Covid-19 crisis, GlobalData predicted the APAC cloud market to grow 117% from USD$133 billion to $288 billion in the years between 2019 and 2024.
The Intentions are clear among APAC businesses – the Cloud is the way to go. The region is among the rising digital hubs of the world where the demand for multi-cloud management, Cloud interconnect, and hybrid businesses have been quick to identify the benefits of cloud technology.
Improving business agility and speed is the focus area for the adoption of Cloud technology in the region. The urgent need to enable remote work access, access to new refined functionality, and giving the business units more direct control over the sourcing of their own IT solutions are the other focus areas.
Security concerns and IT governance are significant inhibitors of cloud adoption. Still, sentiments about security on the public Cloud have changed over recent years, with improving IT securities now considered as one of the top drivers for public cloud adoption. Gradually, the Cloud adopting in APAC will surpass basic IaaS, PaaS, SaaS to value-added services in the coming years.
BARRIERS
Despite a quick rate of adoption, however, cloud penetration in the APAC market remains at just 20%. This is due to barriers in holistic cloud integration, mainly to do with organizational capabilities.
The first gap is at the strategy level, with many businesses failing to develop a cloud strategy that extends across various business functions. Financial services and industrial goods sectors are front runners in adapting their monitoring, procurement, and risk practices to the Cloud, while most other areas lag far behind.
Compliance issues represent one of the flaring challenges for the APAC cloud market. As the region is highly fragmented, there is a lack of standardization, and countries are still tied-up with monolithic IT landscapes and policies in place
Regional coverage of the cloud vendors remains lower than compared to the US and EU regions. Although the APAC regions are vast, there are geographies, which are highly prone to natural disasters like Earthquakes, Typhoons that keep investors, and Businesses worried about scalability and disaster recovery.
CLOUD COMPUTING CATEGORIES
Infrastructure as a Service (IaaS) will be the largest category of cloud computing, delivering 50.2% of overall public Cloud spend till 2023).
Software as a Service (SaaS) has positioned itself second largest in terms of spending on the Cloud. The share is 39.03%. SaaS is followed by Platform as a service (PaaS) with a 10.7% share in 2019. Primarily, IaaS spending will be balanced, with server spending trending slightly ahead of storage spending. SaaS spending, comprised of applications and system infrastructure software (SIS), will be dominated by applications purchases.
PaaS spending will be led by Data Management Software, which will record a five-year CAGR of 55.6% until 2023.
Professional services, Banking, and Discrete Manufacturing are the top three industries that account for more than one-third of all public cloud services spending.
IaaS will be the top category of investment for all industries. IaaS will see its share of spending increase for sectors that are building data and compute-intensive services. For example, IaaS spending is expected to capture more than 13.6% of public cloud services spending by the professional services industry in 2023. However, Construction and Professional services will see the fastest growth in public cloud spending with a five-year CAGR of 41.6% and 40.9%, respectively.
The smart city initiatives across major cities in the region have opened the door for governments to revamp their legacy systems and transform the traditional IT with public cloud services. Besides, authorities are easing regulations for regulated industries, such as banking, to leverage public cloud services for better services offerings.
Huge businesses (more than 1000 employees) will account for 37.7% of all public cloud spending, while medium-size businesses (100-499 employees) will deliver around 29.8% of the total in 2019, followed by large businesses (500-999 employees) with a 20.5% share in the Asia Pacific. Small businesses (10-99 employees) have a few percentage points, while the spending share from small offices (1-9 employees) will be in the low single digits till 2023.
From a geographic perspective, China will be the largest country market for public cloud services in 2021, with its $12.9 billion spendings to account for about 49.7% of Asia Pacific spending. Interestingly, the China cloud market is highly dominated by local players accounting all Top 6 positions in the player-wise ranking. Australia ($3.9 billion) and India ($2.8 billion) will be in second and third place, respectively, in Cloud Spending in the region.
The Cloud & its Governance
These days, organizations have hybrid environments, multi-cloud environments, single cloud environments, and sometimes a combination of all these environments. Organizations sometimes do not have a proper understanding of what environments they have to manage and, at times, have poor visibility of their requirements and competencies.
Governance is essential when organizations move towards a hybrid environment because it helps them have a birds' eye view of every requirement from operations, support, monitoring instances, workflows, and requests. It also helps the internal stakeholders to take ownership of the tools and processes involved.
Macro View of the Current Cloud Governance Scenario
Every business today is driven digitally, and every business depends on critical systems to engage with customers. Enterprises cloud portfolio is emerging as a typically Hybrid cloud in their IT portfolio with multi-cloud, on-premise environments, and cloud providers ranging from two to six providers leading to a series of challenges below.
Critical Challenges of Hybrid Cloud Management
Decentralized procurement causing redundant resources
Current IT systems unable to handle hybrid cloud complexity
Spending hours trying to find cloud governance issues
Cloud optimizations is a big challenge
Billing hikes due to inefficient monitoring of underutilized or over-utilized computing resources
Unable to identify the business unit accountable for a cloud spend
Hybrid cloud adoption has expanded the role of IT operations and created a demand for Hybrid Cloud Management & Governance tools capable of supporting the complexity of hybrid Cloud.
About iMicron UNITY – A Hybrid Cloud Management & Governance Platform
Your Path to Hybrid Cloud Governance
UNITY is a Hybrid cloud management & governance platform for hybrid workloads that control workflows of an enterprise like SaaS & PaaS applications, cloud workloads, etc. UNITY offers enterprises comprehensive cloud management and cloud governance enablement solution. It allows IT to be aggregate, manage, and deliver public and private cloud services across the enterprises.
iMicron Unity empowers enterprises to achieve optimization of cloud usage with an allocation of resources and integration of business processes to boost performance, contain cost, implement compliance across on-premise private and public cloud environments.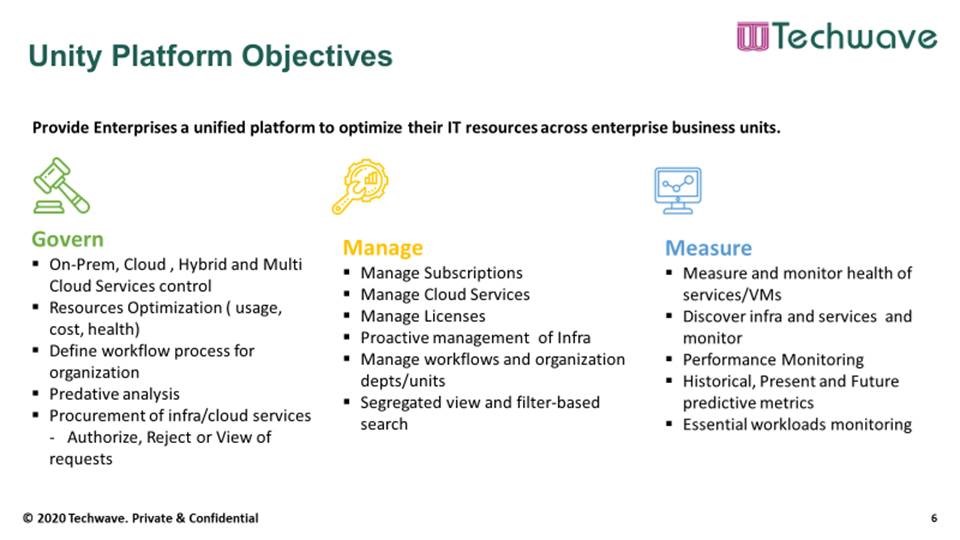 The UNITY Solution
Enable cloud computing governance with a link to cloud IT management and business.
A technology that sees into cloud operations
An interface that shows how your performance measures up to your goals
A service catalog as a record of all IT services extended to Cloud
UNITY Core Capabilities
Hassle-free life cycle management of enterprise IT resources
Users and workflow control through the Admin console
Unified enterprise dashboard for the IT Admin
Capability to integrate with choice ITSM tool
Real-time essential and performance monitoring
Integration into enterprises

Billing & finance systems

Incident & service level management systems
UNITY Business Benefits
A unified view of the enterprise's cloud usage in a dashboard
Integration with enterprise resource authentications
Organization governance with structural workflows
Optimized use of resources with a view into demand and availability
Instance monitoring with predictions, threshold alerts, support & ITSM all in one place
IT Admin/IT Director has visibility into the IT spend of each business unit
The resource is automatically released on completion of the initial allocated duration
Clarity about the allocated and pool resources, to plan for procurements/budgetary approvals
Why UNITY for Hybrid Cloud Governance
200+ Certified Team & Partnership with 10+ Cloud Service Providers
Global Cloud Presence based on the law of the land
Optimize infra investment & streamline operations
Hybrid Cloud Management & Support critical system transformation
Align IT with business processes
PoC Ready & Service Catalog Automation
iMicron Unity – Enterprise Cloud Management Solution on IBM Cloud
Bring workloads on IBM Cloud with iMicron. iMicron enterprise solutions-as-a-service provides the agility & flexibility to offer cloud solutions with the IBM cloud capabilities & bundled managed services. Unity platform runs on IBM Cloud as IaaS. Learn how iMicron By Techwave can help your business solve critical issues related to cloud governance and management on IBM Cloud.