Is your company digitally transformed? Are you in search of efficient blocks to building digital transformation? If yes, then you are in the right place. We have already phased to the digital age and the term digital transformation (DX) needs no special introduction. Gartner's CEO's Survey on Digital Transformation has shared mixed reactions over DX.
While 56% of CEOs said that digital transformation fetched higher ROIs, 47% CEOs who are yet to go digital revealed that their board of directors exerted pressure to embrace DX. At least 57% CEOs felt the need to have in-house digital technology while 29% had plans to outsource it.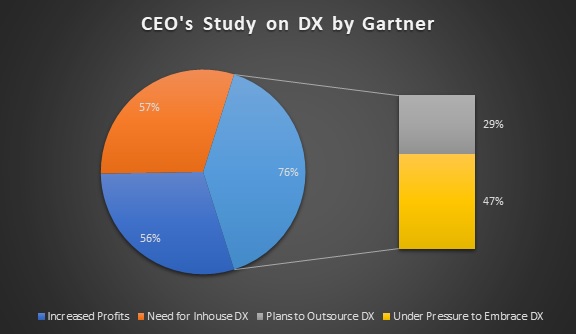 Adopting DX isn't a cakewalk, as everything needs a complete revamp including the right training to the workforce. Amidst all these challenges, companies are moving ahead with a position vision transform digitally. Just like how every lifecycle has its blocks, there are certain blocks to be built to embrace DX. Read on to know more about them.
What is Digital transformation?
According to CTO Dell EMC Services, "Digital Transformation is application of digital capabilities to processes, products, and assets to improve efficiency, enhance customer value, manage risk, and uncover new monetization opportunities". In essence, digital transformation is more than a mere process of going digital but application to every business process, unit and applications to enhance value and provide better customer experience.
According to digital transformation experts, there are essentially 4 building blocks of digital transformation, which are also four pillars of efficient DX.
Digital Strategy
Robust Technology
Training Staff
Analytics
Digital Strategy is pivotal for any organization that looks forward to going digital. This strategy often comes out of brainstorming and proper discussions among decision makers. It typically includes the approach, partial or complete digitization, how many applications or services need to be digitized, whether digitization technology should be on-premise or go with the third-party vendor, the budget estimations, the plan to train the employees, intuitive or complex UI and so on because the end-goal of the DX is to help customers avail the services online with ease.
Robust Technology is essential for DX. Before releasing the services online, any application should be thoroughly checked and tested from user-perspective to check if it's functioning. The applications should also be load tested to check the capability of withstanding heavy traffic. A right digital ecosystem can undoubtedly fetch higher ROIs. In fact, e-Spirit, in its recent survey, found that only 20% companies are fetching higher ROIs while 80% are unable to meet their ROI targets, which is essential because of the weakly integrated tools.
Training Staff is as crucial as other three blocks to building Digital Transformation. So far, your staff is accustomed to the legacy IT infrastructure, and when you plan to embrace DX, they certainly need to learn the new things from scratch, especially when you don't outsource the Digital Transformation technology.  SADA conducted a recent survey on what staff felt about digital transformation. Apparently, 22% of them said that the implementation of DX had there been a proper training, the implementation of DX would have been undoubtedly better.
Analytics takes the top slot when it comes to DX. Yes, it is through analytics that decision makers arrive at conclusions and it plays a crucial role. Without real time analytics, we wouldn't be able to be proactive decision making or measure success and failure. For instance, questions can be like—can we get the same sales on a rainy Thursday when compared to that of a pleasant Sunday evening? Analytics is all about exploring these questions and coming up with the right solutions for attracting the customers through compelling offers.
Conclusion: Digital transformation is unavoidable if you want to take your company to the next level. It helps in better branding and visibility of the enterprise. Just in case you are planning to embrace DX and are confused about the strategy, please get in touch with Techwave. We have decades of experience and partnered with global clients in their digital transformation journey.  Write to us at info@techwave.net.