Headless Commerce has been around for some time, and many of its concepts are not entirely new. Still, in a digital commerce market in which organizations increasingly need to stand out from the competition, deliver exceptional customer experiences, and battle for their share of customer loyalty, market allocation, and brand awareness to maintain revenue, the necessity to transform and enhance digital touchpoints has accelerated.
Online businesses must adapt quickly, adopt new ways of delivering products and content, and experiment and expand the channels they communicate and sell.
The monolithic model of e-commerce, where digital platforms consisted of an application that coupled the backend and frontend in one product, provided the opportunity of managing one system in a single investment. However, it has always suffered from one significant drawback – any changes, even relatively small ones, take a lot of time and effort. The ability to quickly change and adapt is lost, and one solution rarely delivers everything.
This is where a Headless or Composable Architecture steps in. In the Headless model, organizations can develop and deploy separate platforms, a single backend delivering business logic and workflows, and 'best of breed' frontend applications decoupled from the backend application and explicitly designed to deliver to one or more commerce channels – whether that is the web, mobile, in-store, over voice or through shared marketplaces.
Composable Architecture
A Headless, Composable Architecture separates form and function. The Backend CMS and Commerce platform drives the logic and workflows of the digital business, orders, customers, products, and prices. The front end(s) delivers User Experiences, User Interfaces (UX/UI), content, and navigation and drives customer journeys. An API layer joins the front end and back end, providing the content and functionality to whatever frontends, or heads, the business needs.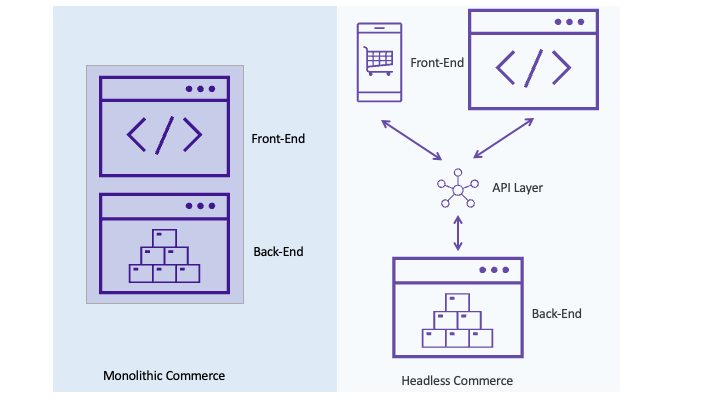 Composable architectures are designed with the assumption that no single platform is likely to be able to meet all the needs of a complex organization.
Instead of forcing an all-in-one solution to deliver all the requirements frontend and back, composable applications focus on excelling in one area of expertise and provide optimal capabilities for that function – integrated with other best-of-breed solutions.
What challenges can a headless approach solve?
Adopting a digital headless commerce architecture can help solve 5 key challenges.
1. Managing every touchpoint : In a modern commerce environment, there are a considerable number of potential channels through which customers may interact and communicate with your business, in-store and face-to-face with your sales team, via your website storefront, over a mobile app, through social media, email, phone, chat, and digital marketplaces.
Delivering a consistent brand and customer experience across all these touchpoints through a single platform can be a significant challenge. Platform technologies designed to work well over a desktop browser may not perform well at creating leaner mobile-optimized experiences. Also, development teams may find themselves layering more and more other technologies on top of the core product to solve problems that the underlying platform cannot deliver out of the box. Changing the frontend frequently significantly impacts the backend architecture, so even minor changes become complex engineering feats.
Separating the frontend user interface from the backend logic and using an API layer to negotiate between them allows freedom for your UX/UI team and your frontend developers to create new storefronts, apps, and solutions without interfering with the business logic in the backend.
2. Supporting business needs through a single technology solution : What happens when your business needs to deploy new features or functionality that your existing commerce application does not support? Most enterprise commerce platforms constrain customers to using approved extensions issued via a marketplace. While these extensions can solve many demands, if your platform restricts you to specifically approved plugins, you'll never be able to truly build the digital experience you want for your customers. You'll always have to compromise to fit into the rigid, clunky templates provided. Headless allows you to adopt any apps you wish to, so you can build a customized digital experience platform that meets your needs.
3. Delivering new features to the market : The digital commerce market is constantly changing. Companies need to develop new features, test them out, and adopt successful changes to keep up with the competition and exploit new business and revenue sources. The speed of delivery to market and the ability to experiment and iterate is key to companies staying innovative and agile. Achieving this requires technology solutions that can be adapted quickly at a low cost. Breaking out the frontend from backend enables your development team to focus on innovative UX/UI changes and make changes rapidly without significant impact on the backend.
4. Delivering high performance on every device : Site & app performance is one of the critical factors in customer experience in e-commerce. Conversions, bounce rates, and abandoned carts are significantly impacted by wait times and slow page loads – customers don't wait for you to respond. A headless approach allows you to use the right technologies for the presentation layers and channels you are operating, take advantage of the best frameworks and the fastest platforms to deliver and ensure that app performance drives business.
5. Creating innovation with available budget : In our previous article, we talked about 4 platform strategies businesses can adopt when their SAP Hybris platform reaches end-of-life and the significant costs accumulated by delaying updates and upgrades until the last minute. An alternative strategy that can be used to avoid a major all-in-one upgrade is to extend the lifespan of the backend platform by moving to a headless model and building a new frontend with the latest available technology while retaining the existing backend.
This can give your customer-facing frontend a new lease of life, resolve many critical security, performance, and reliability concerns without discarding the entire platform, and re-engineer every component in one costly project.
Going Headless with Spartacus
Most of our enterprise customers use SAP Hybris to deliver digital commerce and generate online revenue. SAP Hybris is a competent and feature-rich platform with built-in omnichannel capabilities. However, it has suffered in the past from the same constraints as other large-scale monolithic solutions; development changes, even apparently minor feature enhancements, can be painfully slow and expensive to implement, and the Java-based frontend could be best described as utilitarian. Building highly responsive, attractive e-commerce experiences with Hybris could feel like an uphill battle in the face of a gale-force wind.
That changed with the introduction of SAP Commerce 1905 of the headless model and an Angular-based storefront called Spartacus. With the Spartacus library, businesses can rapidly build responsive, dynamic online shopping experiences using a JavaScript-based storefront, with ready-built communication to the SAP Commerce backend via the API layer.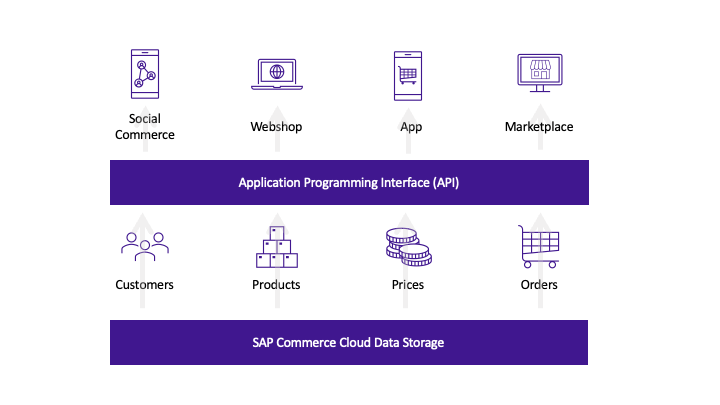 As a replacement for Accelerator templates, Spartacus is a strategic way forward for maintaining a customizable storefront with SAP Commerce Cloud. In the next article, we will discuss the benefits of building in Spartacus for both the business and the technology teams. For now, we will say that Spartacus enables businesses to breathe new life into their digital commerce and make the step into a headless architecture with the least change and cost – retaining the investment and development effort they already have made in the SAP platform.
Our next article will address the questions you'll need to consider before moving to a headless commerce architecture and the direct benefits of deploying SAP Commerce with Spartacus. Meanwhile, if this article has made you think about the benefits to your business of going headless and how this could work for you, get in touch with Techwave and find out how we can help you achieve excellence in customer experience.