Exactly in 2011 when Harry Potter and the Philosopher's Stone hit the theatres, the wand in Harry's hand had become the topic of the town, for it had the potential to do wonders in real-time. And perhaps entrepreneurs are apparently the first ones in the queue who longed for such thing in their dreams until Amazon introduced Elastic Cloud Compute in 2006. Today, cloud computing is more than a magic wand that can enable employees to seamlessly get the real-time insights into each other's work, and the information is shared between a group in blazing speed. Based on the cloud technology, several applications popped-up such as Uber etc., that helped us share our location and track the vehicles. Cloud undoubtedly transformed the way we lead our lives.
However, not all enterprises are comfortable switching to cloud, especially to manage the architecture and heavy investments in the private or public cloud. The study by State of the Cloud Survey upheld the same viewpoint. Is there any solution to help companies utilize the cloud computing services within their tight budgets? Cloud integration is the only solutions to fix this issue. Read on to know what cloud integration is and how it would benefit the enterprises that can't embrace the private cloud solutions.
What is Cloud Integration?
Designed to break the cloud silos and facilitate the free flow of the information, cloud integration is a bundled tool that Cloud integration is all about availing the cloud service in the form of subscriptions, typically half-yearly or annual plans. This can be availed as Software as a Service—SaaS (where you subscribe to only a software and enjoy the services as per your plan), Platform as a Service—PaaS (where hardware and software would be provided by the third-party, and Infrastructure as a Service—IaaS (the entire third party's infrastructure would be rented out).
Benefits of Cloud Integration?
Cloud integration comes bundled with n number of benefits and below are some of them hand-picked for you so that it will help you take a swift decision to adopt cloud integration.
Highly Scalable: Cloud integration services are highly scalable. As and when you require the high bandwidth, you will have an option to scale up and similarly you can scale down your services. Also, cloud integration is flexible, with the help of login credentials, one can access the data and exchange the same in real-time from any part of the globe.
Customer Support: There will always be better customer support when it comes to cloud integration. You can communicate with your customers and provide resolutions through online chat when you integrate to the cloud services. The CRM can be integrated with the customer support seamlessly.
Increased Productivity: The productivity can be increased with ease when you adopt cloud integration services. Your resources, who usually manage the private cloud, or the traditional IT infrastructure can be deployed at better locations so that the productivity can be increased. Also, another factor that helps in better productivity is—transparency in the work. Irrespective of the geographical location of the employees, teams can view the information in real-time and avoid redundancies.
Higher ROI: Higher Return on Investment is surely on cards for those who embrace cloud integrations. As the productivity shoots up, companies deliver better results. Also, with the right customer support in place, cloud integration will undoubtedly influence ROI. According to a survey report of Nucleus Research, the companies that switch to cloud migration had yielded 1.7 higher ROI compared to other enterprises that restricted to traditional IT.
Reduced OPEX: The operations costs are surely to dip when you adopt cloud integration as an enterprise would pay only for the services it utilizes unlike traditional IT or private cloud wherein the infrastructure for the future should also be purchased. In a recent survey conducted by TARI in association with Microsoft, at least 96% of SMEs have witnessed a lower OPEX within two years of switching to cloud integration.
Key Market Players: Ever since cloud integration came to picture, Amazon, Microsoft, Google and Oracle have been dominating this space with a significant number of enterprises approaching these big names for SaaS/PaaS/IaaS. In fact, IDC, in its survey, revealed interesting facts. It said that at least 32% companies exhibited interest in Amazon's AWS while 23% switched to Microsoft, and 20% of them preferred Google. There are several other big names such as Dell Boomi that offer customized cloud integration within tight budgets.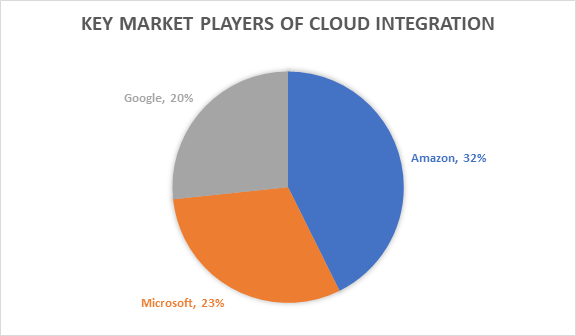 Conclusion: When it comes to embracing cloud integration, the predominant focus of any SMEs would be budget. Techwave is here to provide cloud integrations within tight budgets. In fact, we even inked a deal with Dell Boomi for deploying cost-effective cloud solutions. In case you are in search of tailor-made cost-effective tailor made integration services, please feel free to get in touch with us at info@techwave.net.