Techwave Autonetics Platform (TAP™)
Improve Your Accuracy And Achieve Significant Reduction In Time And Effort
Intelligent Automation For Your Recurring Manual Processes Through TAP™ Bots
Techwave introduces a cost-effective, customizable, and portable solution for Process Automation, Techwave Autonetics Platform (TAP™). Automation of Business Processes using TAP™ reduces significant time and effort from hours to minutes/seconds, reduced human errors, and improves accuracy. TAP™ bot enables employees to perform high-end works reducing non-­value add jobs. TAP™ helps in the company's growth by reducing cost, assisting several departments to work together, improving the output and efficiency accuracy in the long run, and aids in spiraling business acumen.
Open Email & Attachments & perform an action
Log In To Web/Enterprise Applications
Move Files and Folders As Per need
Perform Copy and Paste acitivities
Scraping Data from the Web
Perform Complex Calculations
Extract Data from the Documents 
Collect Social Media Statistics
User Interface for easy configuration and monitoring of automated process
Well built Asynchronous Parallel Processes and reporting feature for the processed data
Extendable Architecture pattern to integrate new business processes into the system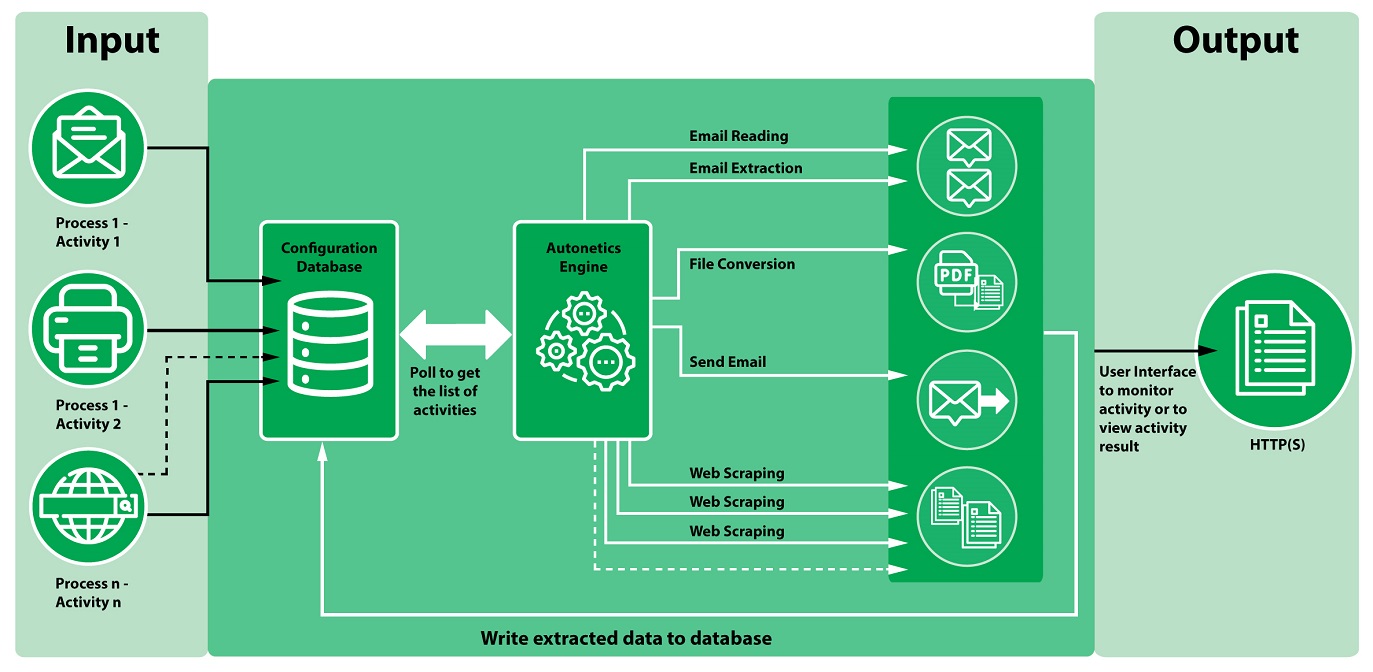 Custom Login Features Available
Email Processing: Incoming and Outgoing emails, Read Email Contents, Save Attached files
Data Extraction: Read and Extract data from any format to a structured layout (applies to PDF, JPG, XML, JSON, etc.)
Data Conversion: Read and Convert Data from one format to another format (applies to PDF, HTML, TXT, JSON, ZIP, etc.)
Web Scraping and Crawling: Extracts data from any web sites (including several search pages) onto a document readable file
Data Validation: Data Reconciliation, Data Archival
Web API: Used to connect an external application to TAP™ seamlessly
SAP and Sharepoint Add-On: To process SAP BAPI Function Calls and CRUD Operations for Sharepoint
EDI Add-On: To convert EDI (Electronic Data Interchange) formats to Data Table
Batch Processing: Large amounts of data and other transactions are read and processed based on a schedule
Integration Add-On: Calling SSIS jobs to perform backend data transformations
Our Differentiators Compared To Market Tools
Competitive and Low Pricing Models
Subscription Based Pricing
Volume Based Pricing Based On Transactions and Support Provided
Call, Email and Chatbot Based Support
No Agent required for installation
End-End Process Automation
Techwave is a leading global IT and Engineering services and solutions company that helps clients worldwide scale their offerings by leveraging its Digital Transformation, Enterprise Application, and Engineering Services expertise. Founded in 2004, Techwave has 1,500 employees globally, across 11 countries, and serving 500+ customers.
Continents with clients running our business applications & services
Integrated Business Units