"Information is the oil of the 21st century, and analytics is the combustion engine."
-Peter Sondergaard, Senior Vice President, Gartner
Ever since the evolution of Information Technology, there are many things that carved new paths in the IT landscape for companies to explore and raise above the horizons. One such biggest thing that IT added under its hood is—Big Data. A technology that erased off the data issues with ease. When traditional IT infrastructure fell flat before the ever-increasing demands, when the traditional database proved fatal to the expanding organizations that are embracing the cloud, Big Data emerged as the only solution. Although the term was first coined way back in the 90s, it started fast catching up only a decade ago when several corporate companies swung into action for adopting this trending technology. Big Data has the capability to maintain large volumes of data and retrieve the same in real-time.
Defining Big Data, Gartner has defined Big Data as 'IT operations analytics.' In its special report on this industry, Gartner said that Big Data is going to dominate software industry and at least 10% companies would embrace it in 2018 alone. It also said that over 2000 companies would switch to IT Operations Analytics Platform.
Intel IT Center has conducted a peer survey to know what they felt about Big Data Analytics. At least 25% of respondents have said that they have adopted the latest Big Data technologies such as Hadoop while 20% were seriously considering adopting it. Apparently, 46% of them said data analytics as crucial for big data, and 44% of them opined that improving data analytics was the need of the hour for their business.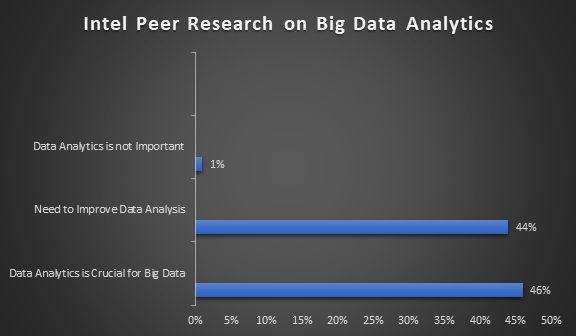 When Big Data is analyzed with real-time insights, it will be beneficial in fetching the data stored in a system and use big data analytics on it. Read on to know these benefits in brief.
Benefits:
Data Governance: Data is crucial and powerful. According to Mr. Sri Kode, Vice-President at Techwave, any data should have three basic parameters—critical, trusted and protected. Such data should always be in line with the law of the land, as every nation has terms and conditions that companies must adhere to especially when it comes to data governance. The GDPR data privacy protection in the European Union serves as a classic example to the same. By optimizing Big Data with data analytics, the data will be automatically monitored to ensure it's not violating the law. It will define a process to protect the data that's sensible, for instance, names and date of birth etc., which will be masked in most cases.
Data Modeling: Your data is null and void in the absence of proper skill-set to interlink the data with everything. Various studies indicated that at least 85% of data is unstructured. This raw data should be modeled as per the organization's needs. This is the area where data analytics will come to picture. It will enable the business analysts to chalk out a perfect model for your data that looks more structured.
Business Intelligence & Improved Decision Making: When big data is optimized for business intelligence, your BAs can easily make crucial decisions with the help of the data that will come from different sources. This is especially beneficial for financial organizations, which are coming up with emergency loan mobile applications, which ascertain customer's eligibility to borrow a loan through business intelligence. Gartner, in its recent research, said that 30% of organizations adopted BI and analysis, and the adoption rate is constantly increasing.
Predictive & Root Cause Analytics: End-customer's behavior can easily be predicted by optimizing big data with analytics. Multiple variables are usually combined into a model to predict the future. The software typically makes use of decision trees, time series analysis, and logistic regressions. It will also help to track the root cause problem of your IT infrastructure by analyzing the unknown issues that occurred in your IT industry and provides an accurate solution in real-time.
Conclusion:
The benefits of real time business analytics span across industries enabling enterprises with reactive changes to the processes resulting in maximizing bottom line profitability and minimized cost. The analytics tools can empower organizations with timely and crucial data to make right decisions providing competitive edge in this fast-paced business world. Data is truly the king of decision making and analytics is a key player for any organization's success in this digital transformation era.