Of late Enterprise Data Virtualization (EDV) has been garnering decent attention from the IT bigwigs given the merits bundled with it. You must have already known about it or must have been in the league that has adopted data virtualization for your company. If you belong to the former club and are considering it, this blog is for you.
Do you know that the data virtualization market is booming even as top-level companies are switching to it due to its robust architecture? If you are skeptic about it, we have a research from Forrester. It has recently published interesting facts in its report christened The Forrester Wave, Enterprise Data Virtualization. At least 2000 key decision makers were interviewed to share their views on Enterprise Data Virtualization. Apparently, 56 % of them said that they have already implemented data virtualization in their enterprises and achieved the desired results. This figure grew from the previous year's 46%. Notably, the remaining 44% were planning to shift to EDV.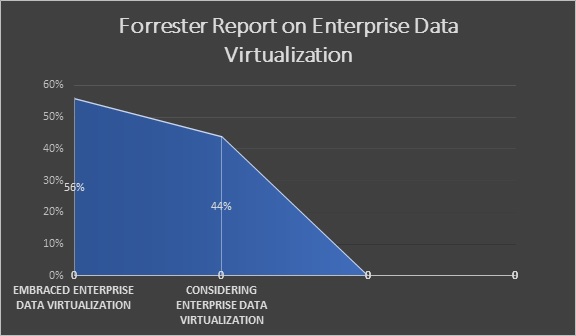 What is Data Virtualization?
Data Virtualization is aggregation of data to create a single version of truth that is delivered across users and applications. According to Wikipedia, Data virtualization is any approach to data management that allows an application to retrieve and manipulate data without requiring technical details about the data, such as how it is formatted at source, or where it is physically located, and can provide a single customer view. The beauty of data virtualization is that it's achieved without actual movement or storage of data and can work with data management tools to suit the needs for the organization.
Benefits of Enterprise Data Virtualization:
Agility: Enterprise Data Virtualization brings more agility to the business. In a whitepaper published by David and Charles at Data Varsity, enterprises have been struggling in coping-up with data issues arising from tradition IT infrastructure such as databases, where the data would be extracted from single or multiple sources. Enterprise Data Virtualization is tactical, and enterprises are vouching for it.
360-Degree View to Customer: Enterprise Data Virtualization is typically ordered as Data as a Service, which enables the 360-degree view to the customers for leveraging the data in real-time. This will be helpful for higher productivity of employees. According to a study by Gartner, at least 50% of companies would shift to Enterprise Data Virtualization.
Real-time Self-Service Analytics: You can now liberate your employees to execute analytics without any manual intervention of your IT team. During scenarios where business analysts need to take a prompt decision, they need to depend on the IT infrastructure and workforce to generate crucial data reports. With the help of Enterprise Data Analytics, the same can be retrieved in real time, which will save the efforts of the enterprise.
Reduced Costs: Project costs can be minimized by adopting data analytics. Since the data would be available at the primary stages of the project development, the overall SDLC is boosted. In a study carried out by Cisco & Forrester, Cisco witnessed that the project cost of its customers was reduced by 5% in the very first year to touch 15% in the third-year. The report even stated that over $1Mn was saved in three years.
Enhanced Employee Productivity: By providing the data analytics in real-time, employees—working in companies that adopted Enterprise Data Virtualization—were able to complete tasks at a faster pace. Forrester mentioned that on an average, the productivity increased by 10% every year in major companies, which resulted in apparent additional ROI of $4Mn per annum.
Conclusion: Enterprise Data Virtualization is slowly expanding its wings even as many companies exuding confidence in this robust technology for the primary benefits expectations from any entrepreneur – higher ROI, increase in productivity, and lower costs. With data velocity story playing center stage given the increasing volume of 'big data' that needs to be churned into quality data, the need for an efficient Enterprise Data Virtualization services is more than ever relevant. As a leading partner for digital transformation services based in the US, Techwave is here to help you. You can write to us at info@techwave.net.