Managing cost, time, and effort to support the SAP Landscape is one of the critical challenges for any business. When choosing a suitable Managed Service Provider (MSP), a company must consider how a services integrator can help manage complex SAP landscapes cost-effectively and at the same time advise on new roadmaps while helping the organization move towards a digitally transformed organization.
Nowadays, most IT service providers are re-christening themselves as SAP managed service providers (MSPs), given the phenomenal growth in cloud services' popularity and outsourcing.
However, there is more to the iceberg's tip of being claimed as an excellent SAP MSP. Service providers need to possess the proper certification recipe, specific service offerings, and proven experience to stand tall amongst the stiff competition.
Businesses require a partner who can help plan, build, and run business-critical and mission-critical SAP applications run around the clock; hence, IT teams in these companies have challenges in successfully managing their SAP systems. These challenges or issues could range from lack of internal IT staff availability to a lack of SAP functional and technical skills to address shifting business requirements to geographical coverage to increased agility demanded by business.
Companies want to work with SAP Managed Services partners to focus their time on the core business activities and leave their complex IT applications in experts' hands. An SAP Managed Services partner is like an insurance, who would help proactively monitor & maintain the mission's health-critical SAP applications to ensure integrity and availability and be available when the need arises.
SAP MSPs: Focus Areas
SAP MSPs usually play a dual role. One, providing Managed Services for the application itself and the other for the Cloud as a cloud service provider. The picture below depicts the SAP Managed Services for the Applications.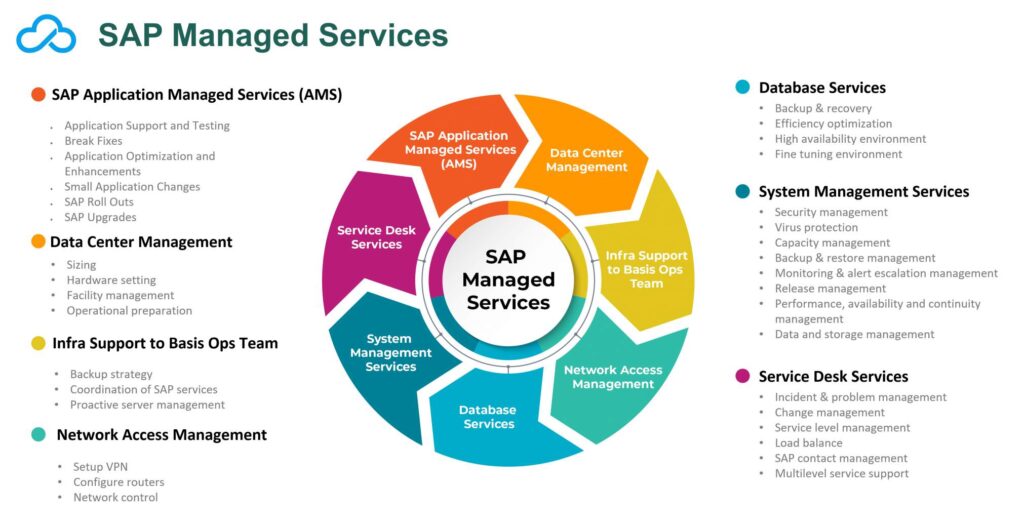 Also, a typical MSP provides IT services on an outsourced basis. Meaning, services are delivered either at the service provider's location, be it within their data center, a shared facility, or in a private cloud that the MSP runs at its location.
Alternatively, some MSPs operate in the public Cloud. Others, who are called "insourced" MSPs, perform services at your premises. Whatever might be the modus operandi, an MSP carries out your tasks so that you can allow resources to focus on other vital tasks.
There are many SAP MSPs in the market based on their services, given the SAP solution set's depth – Technical or Functional work or both combined. Some MSPs work on supporting software development or applications like SAP HANA etc.
Basis Managed Services
Most of the SAP MSPs provide the Basis Managed Services as it is considered a pre-requisite to be identified as a technical SAP MSP.
An SAP Basis MSP takes care of minor yet critical parameters like implementing system upgrades & patches and configuring software and hardware. The MSP also arranges for Basis administrators with the expertise to carry out all vital tasks.
SaaS-based SAP Services on Cloud
Few MSPs offer SAP solutions on a Software-as-a-Service (SaaS) basis on a cloud. This offering is considered the mother of SAP MSP partnerships.
Through this model, MSPs provide for responsibilities like SAP licensing, maintenance, support, and hosting. This model also includes additional services like security monitoring and more.
SAP Software On Public Cloud
Services like Amazon Web Services (AWS) and Microsoft Azure – part of the public Cloud, offer SAP software on their platforms; AWS is the most preferred cloud platform. Cost optimization is the key benefit of running an SAP instance on-premises. However, running SAP in the public Cloud can be quite challenging if you need performance, security, and reliability. Not all SAP MSPs can competently handle the public Cloud.
SAP HANA In The Cloud
Managed services for SAP can be the right choice for companies that want to take advantage of the SAP HANA in-memory database. This is because SAP HANA can be challenging to implement and manage, and this is true of the S/4HANA suite. It takes experience and expertise to implement and keep it running well successfully. When you put SAP HANA in the Cloud, the need for outside help increases.
Picking The Perfect Partner
The perfect SAP MSP for your organization will be one that
Been there done that with companies before.
Excellent cultural fit with your resources (people)
In-depth expertise to handle IT issues
Able to act as a 'Catalyst' between IT department and business units
Has digital solid transformation skills
Can clearly show the RoI benefits for specific business objectives
Out-of-the-box ideator who can improve our business leveraging IT
Has expertise in consulting capabilities in addition to IT services skills
Flexible on pricing
Has a good understanding of the industry
Is very adaptable
Has a strong sense of your business.
When it comes to partnering with the right MSP, a business must consider how a services integrator can help manage complex SAP landscapes and advice on new roadmaps, helping the organization move forward at its own pace.
Techwave's SAP Managed Services
Techwave is one of the global leaders in providing top-notch SAP Application Managed Services. The image below depicts our certifications to his effect.

Techwave has a strong track record as an SAP-managed service provider, and our SAP experts across the globe have been deploying, tuning, and managing complex SAP technical environments. Our cross-functional team of experts will analyze and support your SAP landscape across its complete lifecycle. Companies can choose a wide range of managed service options. Techwave SAP experts will also create a custom-ordered service offering for specific business requirements.
Our SAP application management support and solutions are designed to maintain mission-critical enterprise applications to help companies optimize and generate more value from their SAP application portfolios. Customers benefit from our round-the-clock follow-the-sun operations with functional and technical expertise leveraging our delivery centers spread across the globe.
Techwave being an SAP managed service provider, focuses on both technical & functional elements and sometimes both together and help companies meet their current and future needs.
While delivering the Managed Services, Techwave also helps clients develop a strategic vision and future SAP roadmap for their business, leveraging the various solutions offered by SAP. We try to understand the business challenge and map it to the desired target state with a clearly defined outcome. Our professionals with a blend of a deep domain, business, logistics, finance, and accounting experience with technical and functional SAP applications knowledge focus on business issues, driving technology transformation, enabling companies to realize their SAP investment's actual value.
Techwave CloudXoom Platform Techwave, an SAP Partner Center of Expertise (PCOE) Certified Application Management Service (AMS) provider, achieved AWS SAP competency status, establishing itself as an Advanced Consulting Partner in the AWS Partner Network. Techwave is also certified for technical proficiency and proven customer implementation success in migrating SAP environments to AWS. The SAP Migration expertise reflects the highest standards of Techwave's depth of knowledge in AWS cloud migration's functional and technical aspects for SAP solutions.