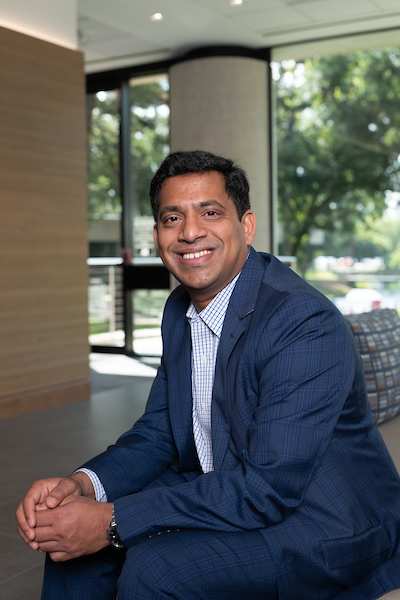 Letter from the CEO
Evolution is Empowerment

Every day, as the sky clears and the light falls upon us, we are inextricably linked to a daily cycle of rebirth and regeneration. As a stream falls into a river and as caterpillars bloom to become butterflies, our world lives and breathes on this daily, life-affirming evolution.
Likewise, Techwave too stands at the edge of evolution. Through 18 years of unshaken zeal and commitment towards delivering quality to clients, empathy towards its people, and building stronger relationships with partners, Techwave has grown from a fledgling IT solutions company to becoming a global behemoth with a diverse range of digital transformation services. This incredible journey has led up to everything that you see today. A self-confident company, beaming with enthusiasm and promise to transform itself to leverage the opportunities of a digital era.
Since the beginning, we have always fostered a culture of inclusivity and fueled the inherent rush to learn and adapt quickly. From clients to partners to employees, at the core of our enduring relationship lies Techwave's drive to empower success for its ecosystem. With every day, we advance our impact-focused goals and our unrelenting focus on empowering our network to succeed. This is what we call evolution.
At Techwave, we actively engage in facilitating evolution and working towards a future that is grounded on collaborative success and unity. It is time for us to consolidate our strategies and immortal beliefs into an identity that is representative of all our inherent values.
---
"As we unlock a new year of growth, I am immensely proud to announce the official launch of Techwave's refreshed identity."
The updated identity is a comprehensive exercise that has redefined our visual as well as a verbal outlook to project Techwave as a modern, young, mindful enterprise. With the tagline, 'Empower Success', a nod to our long legacy of accelerating business outcomes, we hope that this brand refresh enables us to unleash a new wave of empowerment amongst all the people connected to us.
Our brand colors have been made brighter to stand out in our segment and symbolize Techwave's youthful and vibrant nature. The use of dark blue color serves as an anchor to the updated brand color palette. The logo is a reimagination of the characteristic TW of Techwave—T stands for our continued focus on upward growth momentum and W acts as an anchor, not just visually, but also as a metaphorical anchor that helps us stay grounded to our foundational purpose. Since clients, colleagues and the community are our top-most priority, we have ensured that the new brand identity exudes an air of clarity of purpose to all our stakeholders. Unlike legacy tech enterprises, we wanted to differentiate ourselves as humane, friendly, reliable, and thoughtful in our outlook.
This is a landmark moment in our history and one of the most exciting times to be part of Techwave as we strengthen our market positioning to empower success through robust strategies, enhanced experience, and inclusivity.