Real-time Personalization
The eCommerce industry is booming with new trends. To stay upbeat with these constantly changing trends retailers must analyze and then mold their marketing strategies to target shopper's individual priorities. The call of the hour is to keep your customers in the forefront and step into their shoes. Wouldn't you love it when you walk into a store and the salespeople know your name, preferences, budget and would offer products / promotions, payment, and delivery options perfectly suitable to you? Not just this, but even constantly keep you informed with the deals and offers that you were exactly looking for.
Of course, it would an incredible shopping experience. In fact, eCommerce personalization has been the trendsetter in 2016. Amazon has been leading the market by offering personalized shopping experience using customer's purchasing history, browsing behavior, wish lists and search queries. The upcoming year will see yet more engaging and customer centric real-time personalization.
As per Gartner reports, "By 2020, smart personalization engines used to recognize customer intent will enable digital businesses to increase their profits by up to 15%." Platforms like Monetate, Magento 2, and Sitecore are already targeting shoppers through product and search personalization. They base their recommendations on customer's preferences, geographic location, market trends, demographic group, past purchases, and brand interactions while avoiding all sorts of weird recommendations that seem to come out of left field. The result is – a dynamic shopping experience personalized to individual's preferences.
It is estimated that Walmart collects more than 2.5 petabytes of data every hour from its customer transactions. To exploit the massive amount of data collected through customer's recent online activity, brand interactions and their social media engagements, retailers are now turning to Big Data Analytics to analyze and understand customer's purchasing habits, product & channel preferences, preferred delivery slots and many more. Big Data helps in analyzing the entire online journey of a customer, both their online store journeys as well as the trails that they leave out on other social media sites, all of which help gain valuable insights into customer's personal preferences which further helps in increasing customer loyalty.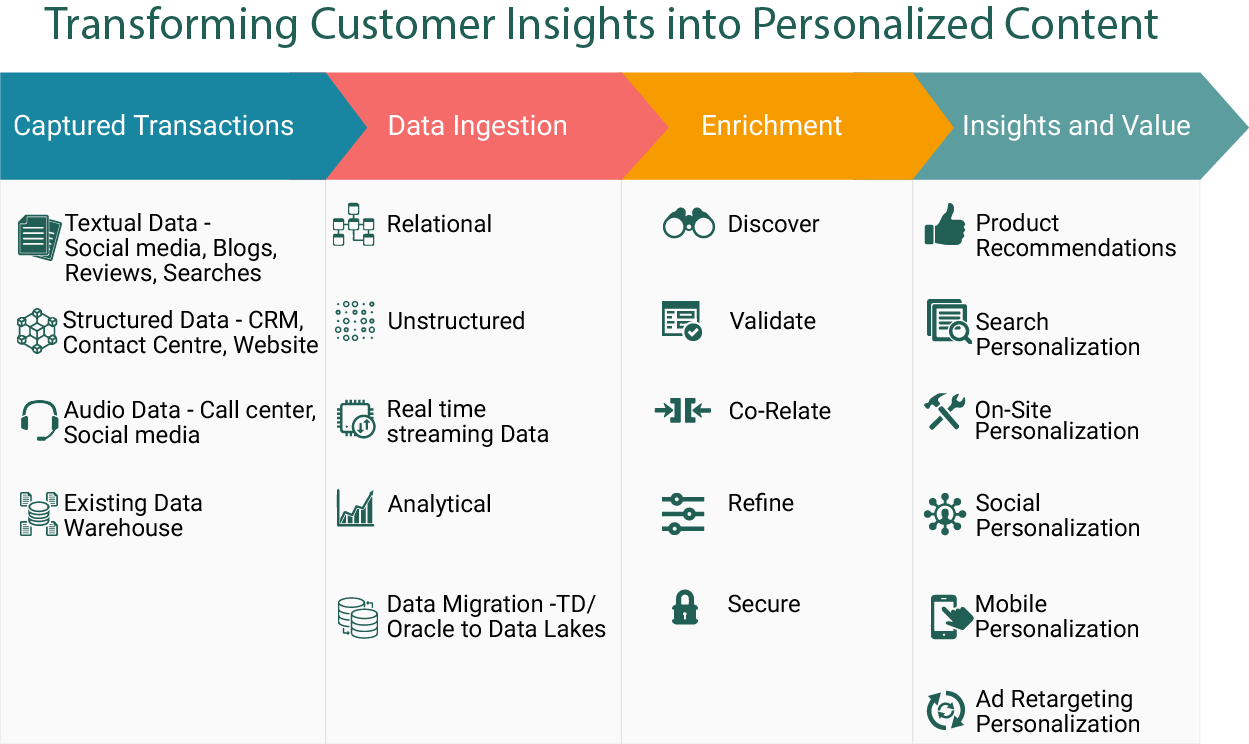 L'Oréal Paris has been able to offer beauty product recommendations that are tailored to a consumer. They have designed five diagnostic tools: skincare, cosmetics (face and eyes), haircare, and hair color. These tools, typically operated on a mobile device, allow consumers to play with different looks in real time. The data collected during each session further helps in customizing offers and coupons which can have a major influence on future purchasing decisions.
The challenge is big but the demand is even bigger. Retail shopping needs to add more value to customer's shopping experience by following 'me- commerce' and shifting their personalization approach from being 'unique' to being 'customized'. If loyal customer is what you are looking for, you must put that extra effort to deliver that heart- shaped chocolate cake with buttercream frosting sprinkled with chocolate chips and of course a candle and the customer's name. Because yes, we must agree, personalization is the key to success in the online world.
To read more about Techwave Offerings, visit Digital Services