Children are our most valuable resource." – Herbert Hoover
Imagine a world where every child, regardless of socio-economic background, can access quality education. A world where the geographical location of a child's birthplace does not dictate their educational prospects for a brighter future. But the reality we face is starkly different.
As per the UNDP, out of the 6.1 billion people surveyed in their report, 1.1 billion live in poverty. Alarmingly, more than half of this number, 566 million, are children under 18.
If we fail to take action today, these children may never be able to set foot in a school again. Our responsibility is to ensure that an entire generation of children does not lose their aspirations for a better life due to poverty, inadequate educational institutions, or limited access to healthcare. Likewise, the digital divide in education should not function as an exclusive barrier that only a privileged few can overcome; instead, it should serve as an inclusive bridge accessible to all.
Let's explore how tech companies equipped with the necessary resources and expertise can leverage technology to improve the learning and teaching conditions for these disadvantaged children.
Empowering children – Analyzing the status quo and paving a path for progress
Examining the current circumstances that affect children's well-being, growth, and development is paramount to enhancing their lives. We can facilitate significant transformation in disadvantaged children's lives by helping them overcome the challenges that hinder their progress.
1.Shaping Tomorrow's Leader – The Role of Education and Skill Development Programs
The inequality in educational opportunities is bleak, with children from poor backgrounds facing nearly four times higher probability of being out of school than their wealthier counterparts. This implies that these children would miss out on the essential knowledge and skills required to thrive in a fast-moving, technology-driven world. To address this, we must establish education and skill development programs as catalysts for empowering children to become future leaders. Tech solution companies can actively support these programs through various avenues.
Donating educational technology tools or gadgets such as laptops, computers, tablets, or smartphones to schools in rural areas to facilitate access to online educational platforms and resources.
Developing or endorsing digital educational solutions specifically designed for disadvantaged children to offer them engaging and personalized learning experiences.
Collaborating with local entities like NGOs, schools, or community centers that provide education and skill-building programs to make technical assistance, training, or mentorship affordable.
Sponsoring educational and skill-building initiatives like scholarships, grants, or contests to enhance the quality and accessibility of education for disadvantaged children.
2.Connecting the Unconnected – The Challenge of Bridging the Digital Divide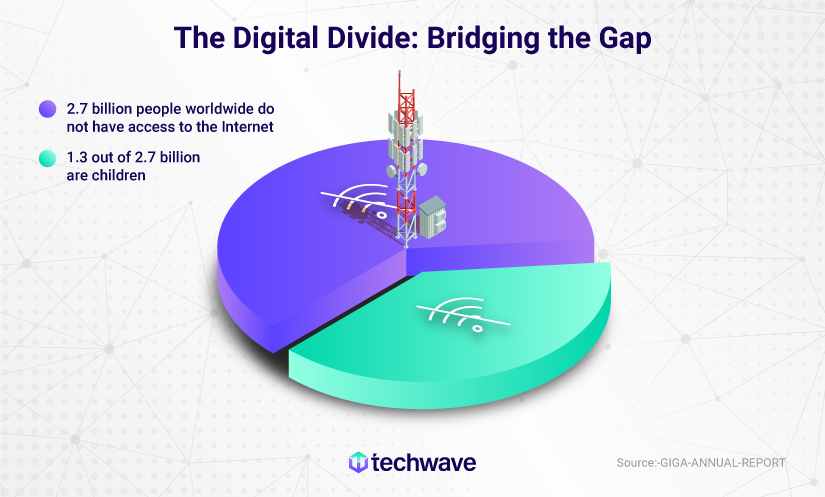 In the 21st century, access to technology is not a luxury but a necessity. It's a doorway to information, opportunities, and connectivity. But over half of the world's children and youth under 25, or 2.2 billion, do not have internet access at home. The following are some ways companies can bridge the digital divide:
Channeling investments into structured cabling, fiber, and wireless networks in underprivileged areas to enhance digital participation and stimulate economic growth in the nation.
Promoting digital inclusion by making products, services, and practices more accessible, affordable, secure, and beneficial for diverse users.
Providing digital literacy programs to educate underprivileged children and their families on effective and safe technology use. These programs could encompass basic computer skills, internet navigation, online safety, and digital citizenship.
Lobbying for increased funding for digital infrastructure in underprivileged areas or for policies that make internet access more affordable.
Hosting hackathons or innovation challenges to encourage creative solutions to bridge the digital divide.
3.Nurturing Wellness – Access to Better Healthcare and Nutrition
The 2023 JME report signals a need for urgent action to limit the number of stunted children, a condition resulting from poor nutrition, repeated infections, and inadequate psychosocial stimulation, to 89 million by 2030. If we don't act now, we'll exceed this target by 39.5 million. Let's look at how technology can contribute:
Creating groundbreaking products and services tailored to meet the unique needs and challenges of diverse populations, encompassing areas like telemedicine, mobile health, wearable technology, and artificial intelligence.
Leveraging data analytics and machine learning to predict child development and health trends, identify at-risk populations, and develop targeted interventions.
Offering dependable and cost-effective solutions capable of reaching remote and underserved regions, including innovations like solar-powered clinics, drone deliveries, and affordable diagnostic tools.
Engaging in partnerships with governments, healthcare professionals, and local communities to ensure their solutions uphold the highest standards of quality, safety, and effectiveness.
Championing the cause of health education by promoting awareness about the significance of quality healthcare and nutrition among their clientele and stakeholders.
Investing in research and development to discover and refine novel methods of delivering healthcare and nutrition, thereby pushing the boundaries of what's possible in the field.
4.Making Bigger Impact Together – The Power of Community Initiatives
As per the United Nations, "community-led, small-scale initiatives are significantly impacting people's lives and aiding in the fight against global issues." These grassroots efforts are not only transforming individual lives but are also playing a crucial role in addressing broader global challenges. They prove that when communities come together, they can affect meaningful change and solve some of the world's most pressing problems. Here are some initiatives companies can undertake to give back to our communities:
Leverage both expertise and experience to create mentorship programs, connecting young people with industry professionals for guidance and career development.
Launch data-driven social initiatives to analyze big data and identify community needs (children's specific challenges) to enable targeted and effective social initiatives
​​5.Gauging Success – Why is measuring results so important?
According to a Forbes report in 2023, more and more businesses are using CSR metrics to evaluate their performance. This shows a change in how we see CSR – it's not just about charity anymore, but a key part of a business strategy that leads to lasting success. Simply put, we must know the difference we can make with our initiatives, and it helps us adjust our strategy and increase our positive impact on society. Here are a few ways to streamline measuring CSR outcomes:
Gauging the influence of products (like teaching/awareness apps) and services (like internet connectivity) on the growth and well-being of children in vulnerable situations.
Documenting the contributions towards the United Nations' Sustainable Development Goals (SDGs), particularly Goals 4, 5, 10, and 16.
Choosing a sustainability measurement framework or methodology that aligns with their mission and objectives, such as B Impact Assessment, Global Reporting Initiative (GRI), or Social Return on Investment (SROI).
Enhancing data capacity by investing in IT systems, data collection and surveying capabilities, and data science tools to identify and design initiatives for targeted demographics (in this case, children below 18).
Communicating CSR results through various formats and channels, such as sustainability reports, dashboards, websites, and social media.
Techwave's Mission: A Brighter Tomorrow for Every Child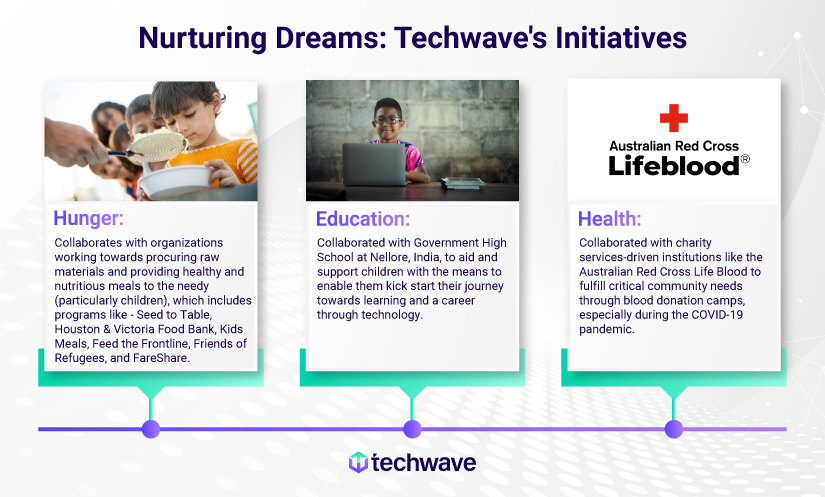 At Techwave, we believe in the transformative power of technology in education to create a brighter future, especially for disadvantaged children. We are committed to making a tangible difference in their lives, and our initiatives span health, nutrition, education, and community support. Here's a glimpse of what we've been doing:
Launched health and nutrition campaigns like Seed to Table, Houston & Victoria Food Bank, Kids Meals, Feed the Frontline, Friends of Refugees, and FareShare to combat hunger in emerging nations and collaborating with organizations to provide healthy, nutritious meals to those in need.
Initiated projects to improve access to clean drinking water to address a fundamental necessity for children's health and well-being.
Developed online platforms and rural broadband infrastructure to facilitate learning and teaching for children and support teachers in delivering effective education, especially in schools in rural areas.
Created apps designed to streamline knowledge sharing and career building for youth empowerment. 
Collaborated with the government high school at Nellore, India, to provide children with the technological means to kickstart their learning journeys.
Organized and contributed to COVID-19 relief funds to deliver hundreds of supplies to those in need.
Launched major global CSR health programs like Australia Red Cross Life Blood to demonstrate our commitment to community health and well-being.
Pioneering Progress: Techwave's Vision for the Future
As we reflect on our journey, Techwave is filled with a sense of accomplishment and a renewed determination to do even better. We have witnessed how a simple tool like a laptop or an educational app can open up a world of opportunities for a child with none.
However, we are aware that there is still much to be done. The challenges are enormous, but so is our resolve to overcome them. We are committed to expanding our initiatives, reaching more children, and making a deeper impact. We plan to forge new partnerships, develop innovative solutions, and invest in areas that drive the most significant change. Because at Techwave, we believe that children are not just our most valuable resource – they are our hope for a better future.