Introduction
SAP system is a potent enterprise resource planning (ERP) solution that fosters innovation and ensures the long-term viability of your business. However, despite substantial investments in SAP applications, many companies struggle to reach desired business outcomes.
Eric Garton, senior partner and head of Global Capabilities at Bain, has rightly pointed out, "While technology is at the heart of every strategic enterprise transformation, research shows that large transformations have higher rates of failure". While SAP applications streamline business processes, they possess inherent complexity that makes it difficult to effectively address the mounting challenges post-SAP implementation.
Successful management of SAP applications call for profound domain expertise and robust governance, a primary concern as internal IT resources are constantly occupied with resolving system issues, derailing business goals. Companies need a reliable support system to enhance productivity, reduce costs, and liberate valuable IT resources. This is where SAP Application Management Services (SAP AMS) come into play.
​​
​Maximize SAP Investments with Comprehensive AMS Support
​SAP Application Management Services (AMS) encompasses various aspects such as pain point analysis, implementation, optimization, and managed SAP services. It enhances the agility of SAP business systems by relieving organizations of managing the complexities associated with SAP applications. However, to ensure continuous support, a reliable SAP partner with extensive IT experience and expertise in maintaining SAP applications can provide 24/7 monitoring of the SAP system.
They proactively release patches, resolve bugs, and ensure smooth business operations with minimal disruptions. By delegating day-to-day tasks to an AMS partner, your internal IT team can concentrate on more strategic initiatives, driving your organization's growth and success.
Everyday Business Challenges in Managing SAP Applications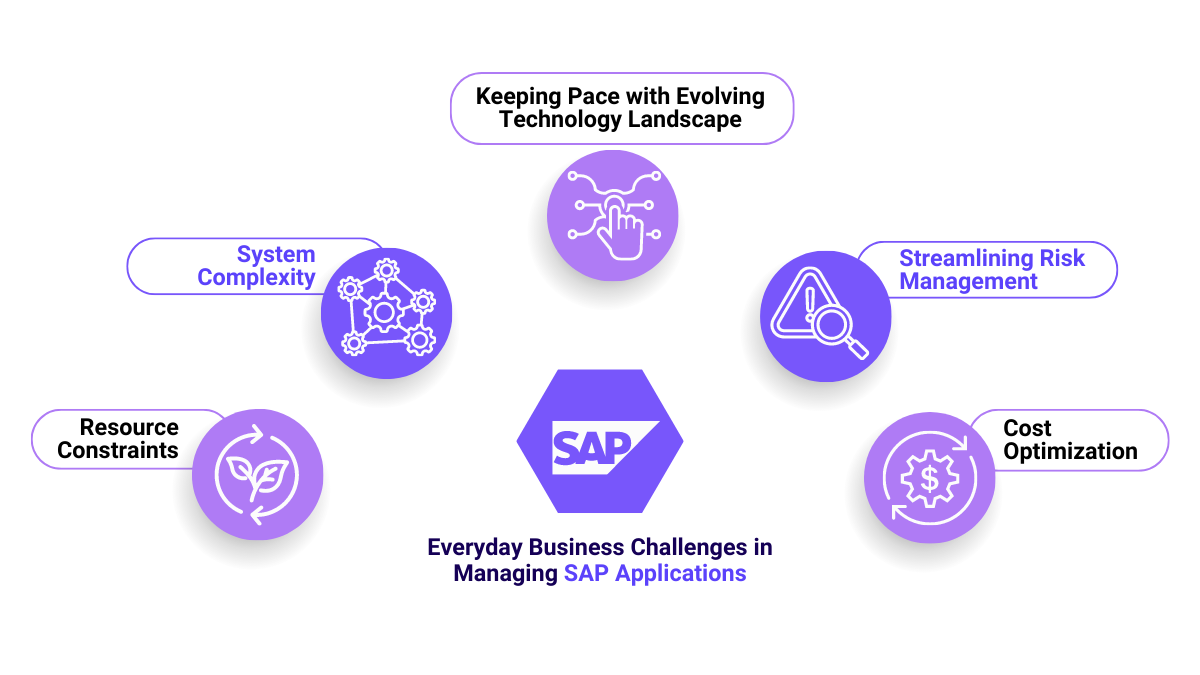 From ensuring smooth operations to addressing critical issues promptly, businesses must find innovative solutions to optimize their application support processes. This is where ​SAP Application Management Services providers play a crucial role. Let's discuss some challenges in detail:
● ​Resource Constraints
These constraints (w.r.t. available personnel, expertise, financial resources, and infrastructure) can hinder the effective management of SAP applications; here are a few:
Inadequate in-house operational expertise 
Limited resources for 24/7 support 
Limited capital, and challenges in retaining SAP functional and technical experts 
Application incompatibility with existing SAP systems and resulting performance concerns 
Infrastructure's struggle to handle SAP expansion
For example, an expanding e-commerce company plans to introduce new functionalities and scale up its SAP system to support increased transaction volumes. However, they have concerns about their existing infrastructure's ability to handle the expanded workload. Limited resources and infrastructure capacity constraints make it challenging to seamlessly accommodate the desired SAP expansion, potentially leading to performance bottlenecks and system instability.
● System Complexity
Identifying and resolving issues within intricate business systems can be daunting. Also, organizations often struggle to find qualified, experienced support personnel to handle such complexities.
Furthermore, the rising need for customization, the resulting complexities of modern IT systems, and the requirement for seamless integration across many platforms exacerbate the issues connected with application management.
For example, the following are some of the factors that contribute to the rising complexity of SAP environments.
The growing use of SAP modules and the requirement for integration, particularly SAP financial supply chain management 
The growing number of distinct SAP application servers for Customer Relationship Management (CRM), Supplier Relationship Management (SRM), Business Warehouse (BW), Advance Planner and Optimizer (APO), and Governance Risk and Compliance (GRC), as well as their interoperability 
The proliferation of legacy interfaces and SAP servers as a result of mergers and acquisitions 
Legacy SAP systems that have been transferred to SAP ERP Central Component (ECC) 6.0 multiple times but have never been cleaned up
● Keeping Pace with Evolving Technology Landscape
Technology is advancing, SAP is evolving, and we now find ourselves in the era of S/4 HANA and SAP Analytics Cloud (SAC). This changing landscape also brings increased complexity and rising costs for maintaining a robust business environment.
IT leaders must adopt new technologies and outsource relevant services in response to market demands. They face the dual challenge of managing IT costs while maintaining an efficient application portfolio that ensures uninterrupted business operations.
To meet these challenges, businesses need consistent, proactive services and support that foster continuous innovation and improvement over time.
● Streamlining Risk Management
Onapsis researchers observed over 300 successful exploit attempts on unsecured SAP applications between mid-2020 and April 2021.
SAP applications are highly sought-after targets for hackers due to their critical role in business operations. Whether it's S/4HANA, CRM, ERP, PLM, SCM, or SRM, these applications store and process a vast amount of sensitive information valuable to attackers. This includes personal data such as social security numbers, employee details like names and addresses, supplier and SAP customer information, and financial data.
The reasons why attackers target SAP applications are:
Their ability to model and execute essential business processes involving both internal and external resources  
They oversee crucial operations such as procurement, production, inventory management, and sales  
SAP applications are a gateway to numerous other applications within an organization's ecosystem, making them a prime entry point for cyberattacks
● Cost Optimization
The cost poses a significant challenge for SAP application services. The increased cost is due to:
SAP applications often involve complex licensing models and require robust infrastructure to support their operations.
They require ongoing maintenance, updates, and technical support. SAP services can contribute to significant costs over time, especially for businesses with large and complex SAP landscapes.
SAP applications often require customization and integration with other systems to meet specific business needs. Customization efforts can be costly, and integrating SAP applications with existing systems can add to the complexity and expenses involved.
Meeting Business Challenges Head-On: The Value of SAP AMS Partner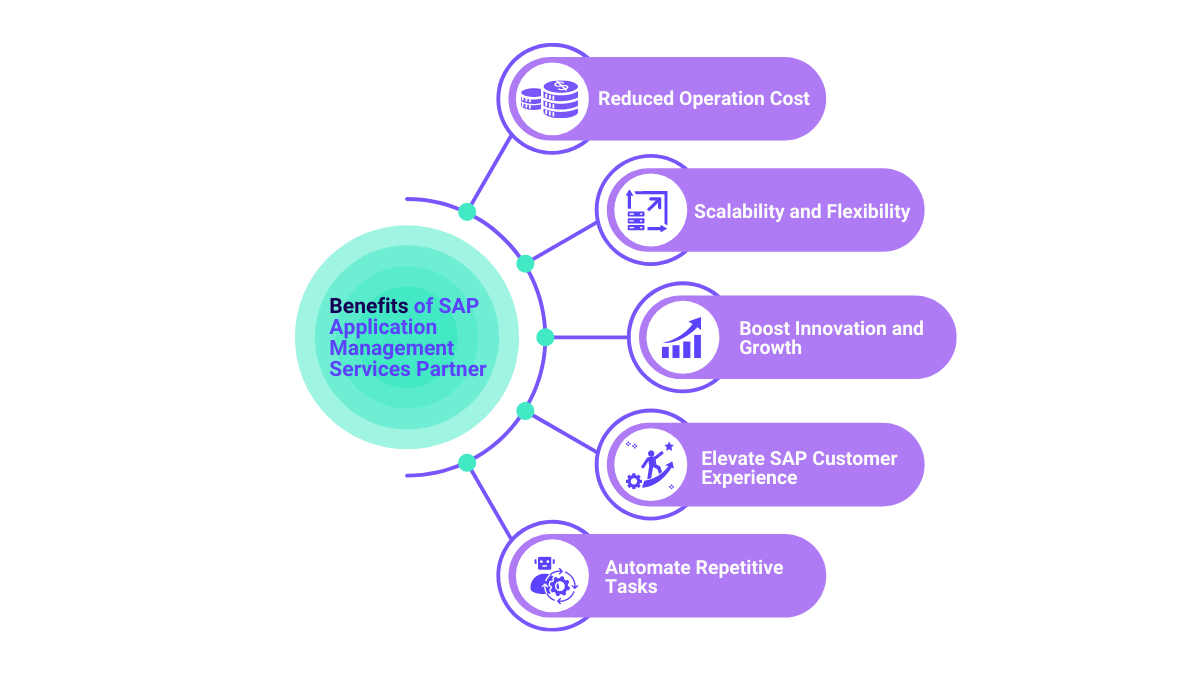 ● Reduced Operating Costs
Opting to outsource application management services (AMS) presents a cost-efficient approach to managing SAP applications. Engaging an AMS provider can:
Alleviate the burden of rising labor costs on a company's budget
Provide flexibility to scale resources up or down, and access to diverse technologies across various time zones significantly boosts productivity
For example, outsourcing SAP support and maintenance to an AMS provider can save costs if a business has a small IT team that manages SAP systems but lacks specialized skills and expertise. The company can free up its IT team to focus on other priorities while benefiting from the provider's expertise and optimized processes, resulting in the efficient management of SAP applications and reduced operational costs.
● Scalability and Flexibility
As businesses evolve and IT requirements shift, AMS providers can adapt their services accordingly. Companies use this scalability to become more nimble and responsive to changing market situations without additional investments in hardware or personnel.
For example, AMS providers with a larger talent pool of experts guarantee flexibility and scalability for development teams. With a diverse and extensive pool of skilled professionals, these providers can:
Efficiently allocate and reallocate experts to different projects, ensuring optimal resource utilization and meeting project timelines
Address specific project needs, whether SAP implementation, customization, integration, or support
Handle multiple projects simultaneously
In simple words, a larger talent pool ensures AMS providers deliver superior outcomes with enhanced project execution, faster time-to-market, and improved cost-effectiveness.
● Boost Innovation and Growth
Partnering with an SAP Application Management Services provider grants access to new SAP products and services, empowering businesses to leverage cutting-edge technologies and innovations.Regardless of size, implementing an AMS enhances internal efficiency. It minimizes reactive tasks and allows businesses to allocate more time to ideation and execution.
● Boost Innovation and Growth Elevate SAP Customer Experience
AMS ensures reliable, responsive, and high-performing applications. With AMS providers, businesses can improve app uptime, reduce latency, and eliminate bottlenecks, resulting in shorter load times and smoother navigation. Analyzing user behavior, optimizing apps, and providing proactive maintenance further enhance the customer experience. This differentiation leads to higher satisfaction, retention, and a loyal customer base.
● Automate Repetitive Tasks
SAP Applications Management vendors can develop custom programs, train business users, and provide necessary authorizations to streamline smaller tasks. This automation significantly reduces costs and enhances operational efficiency.
For example, Robotic Process Automation (RPA) is gaining momentum in Applications Management Services (AMS) and production support. Early adopters utilize RPA bots to autonomously resolve ticket issues and update secondary and tertiary instances of SAP enterprise resource planning (ERP) applications.
Expedite nterprise Transformation With Techwave SAP Application Management Services
Techwave, an SAP Gold Partner, provides proven SAP application support methods. Our dedicated SAP Center of Excellence comprises over 500 SAP experts, guaranteeing exceptional service and expertise. Techwave SAP AMS methodology prioritizes customer collaboration, aligning with our four pillars of AMS – Governance, Process, Innovation, and Reliability.
Contact us to learn more about Techwave's innovative SAP AMS engagement strategy that maximizes the value derived from your SAP support budget.